Now Available for Download

Larry Kerchner's

Electrifying New Song

Can't Stay Away
From You

sung by

Michael Feinstein's
Great American Songbook Academy
2014 Youth Ambassador

Madelyn Baillio

A Vocal That Will Melt Your Heart
---
Larry Kerchner's "Can't Stay Away From You" has been described as a pop ballad, with strong Jazz and R&B influences. Brought to life by Madelyn Baillio's lush, convincing vocal, this gem of a song is a shoe-in to become a new American standard. Michael Feinstein, renowned vocalist, pianist, archivist, and undisputed foremost authority on the Great American Songbook, says of this recording, "The combination of Madelyn and 'Can't Stay From You' is sheer perfection!" — high praise from a man who knows singers, songs, and the people who write them! Produced and arranged by Kerchner, with sequencing by Daryl Kojak, one can't help but be swept up in its beautiful sadness.
"Can't Stay Away From You" has everything a great song needs to be a standard — a strong melody set in a masterful chord progression and a lyric that will tear your heart out. Kerchner's choice of young Madelyn Baillio to communicate his latest tune is a match made in torch song heaven. This is a recording that will easily connect across the board to fans of pop, jazz, or R&B.
About the Artist:
Madelyn Baillio, who hails from League City, Texas, was the winner of the 2014 Great American Songbook Academy and has since performed at Birdland Jazz Club, Lincoln Center, the Kennedy Center, and Carnegie Hall. A student at Marymount Manhattan College in New York, she has starred in productions of "Once Upon A Mattress" and "Dracula."
About the Songwriter:
Larry Kerchner is a versatile, well-published composer, arranger, and lyricist who has written music for TV, films, commercial jingles, nightclub acts, and even the Ringling Bros. and Barnum & Bailey Circus! His songs and instrumental works have been performed or recorded by Laurel Massé, Marilyn Maye, and Michael Feinstein, as well as the Washington Pops Symphony Orchestra and Chorus.
---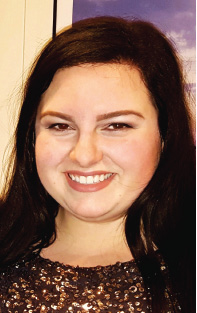 CAN'T STAY AWAY FROM YOU
Credits:
Words and Music by Larry Kerchner
Produced by Larry Kerchner
Recorded at Studio 55, New York, NY
Keyboards / Sequencing: Daryl Kojak
Mixed by Jeff Chestek and Larry Kerchner at Hat Sound, Philadelphia, PA
Mastered by Jeff Chestek
Cover Photo: Taylor Brauer Photography
Special thanks to Terrence Flannery, Michael Feinstein, Annette Kerchner, KT Sullivan, and Debbi Whiting
© 2016 by Larry Kerchner | All Rights Reserved
LaCait Productions